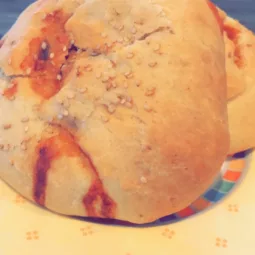 Chicken Tikka Buns
Ingredients
For the buns:
1

packet

1 packet quick rise yeast

1

tbsp

Sugar

1

tbsp

Salt

3

cup

Flour

1/3

cup

Avocado Oil

3/4

cup

Water

Luke warm
The Filling:
Salt to taste

6-8

6-8 garlic pods

1

tbsp

1 tsp ginger paste

1

Juice of lemon

2

tbsp

Kashmiri Red Chili Powder

1/2

tbsp

Garam masala

1

Bell pepper

chopped

2

Ibs

Boneless Chicken

cut in very small pieces
Instructions
For the buns:
Dissolve the yeast in the Luke warm water in the bowl of your kitchen aid and leave it alone for 10 min

Add all the rest of the ingredients to the yeast mixture which should now be frothy on the top. Using your dough hook mix it for 5 minutes. Form the dough into a ball. Cover and let it rise for about 2 hours or till it doubles.
The Filling:
Marinate all of the above for at least an hour.

Then heat avocado oil in your skillet and cook till done.

Your dough should be doubled in size. Punch it down and make 8-10 equal parts. Flatten it out. Put filling in the center and pinch the top closed.

Brush with egg wash (egg white and water beaten together) sprinkle with sesame seeds

Bake at 350 till light golden brown.
Did you make this recipe?
Take a picture and please tag me at #sliceofgourmet. Your appreciation and pictures and tags inspires me to create more recipes for you all.