A big slice of pound cake with a cup of tea makes for the perfect evening. I really enjoy this almond pound cake drizzled with Nutella. Such a delicious treat. One of the things about this recipe that I love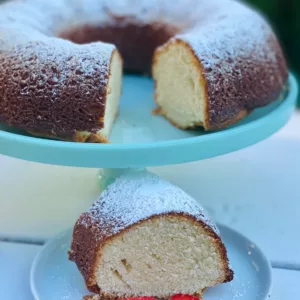 Pound Cake
A big slice of pound cake with a cup of tea makes for the perfect evening. I really enjoy this almond pound cake drizzled with Nutella. Such a delicious treat. One of the things about this recipe that I love
is its versatility. You can switch around the essences to make a variety of flavors. I have used orange, lemon and anise. Each of them tastes different and sooo good. My sister gave me this recipe and I changed it a bit and with her permission, I am sharing it with you'll today. I hope this becomes a favorite for you too XO
Ingredients
4

oZ

Cream Cheese

1/2

cup

Butter

3

Eggs

1.5

cup

Sugar

1.5

cup

Flour

1/4

tbsp

Baking soda

1

tbsp

Vanilla

1/4

tbsp

Salt

1/4

tbsp

Almond essence
Instructions
Sift all the dry ingredients and set aside

Beat the butter, sugar and cream cheese till pale and creamy. It takes about 5 minutes with a stand mixer. Now add the eggs one at a time beating till incorporated each time. Now add the flour 1 tablespoon at a time. Lastly you add the essence. Pour into your prepared pan and then turn on the oven at 375 and then put your cake in. Bake till done. It took me about 40 minutes. Every oven is different so bake till an inserted knife comes out clean.
Did you make this recipe?
Take a picture and please tag me at #sliceofgourmet. Your appreciation and pictures and tags inspires me to create more recipes for you all.